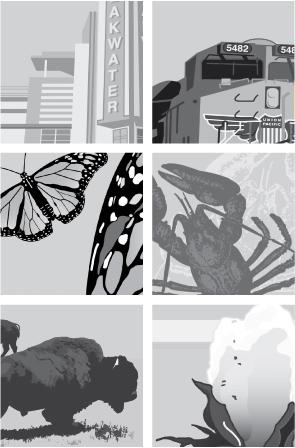 }
philosophy
Everything starts with an idea … At Kevin Brown Studio we pride ourselves on having lots of good ones. We also value the importance of building collaborative and enduring relationships with a clear understanding of our clients' needs. We're committed to helping our clients market effectively to their audience. And we're passionate about helping them see the power of good design and the effect it can have on their business.
process
At Kevin Brown Studio we believe the strategies behind creating a successful and memorable design involve a process that evolves through various stages of listening, insight, development, feedback, and change. Key to this creative process is vision, research, inspiration, problem solving and of course, great design.
what we do
Following are the design services offered by Kevin Brown Studio.
• Poster Design
• Logos / Identity
• Branding / Marketing
• Illustration
• Art Direction
bio
Kevin Brown is a designer, illustrator, award-winning author and traveler. He earned both his Bachelors and Masters degrees in Architecture from Tulane University in New Orleans, a city renowned not only for its eccentric charm and mystique, but for its music, cuisine, culture and tradition; a city ideally suited for the study of art and architecture. Following his time at Tulane, Kevin began his career as an architectural assistant, executing design documents and creating architectural renderings for one of the leading architectural firms in London—the GMW Partnership. There he began to hone his creative skills and developed a strong interest in the graphic and visual aspects of design.
Upon returning to the US, Kevin made the transition from architecture to graphic design. He relocated to northern California and served as designer / art director for Whole Foods Market and Peet's Coffee & Tea. Kevin soon began to develop his philosophy of visual communication through powerful graphic images and innovative graphic solutions.
Kevin has traveled extensively, having lived in eight states and three foreign countries and visited countless others. His travels have given him a broad array of visual, cultural and geographic references to which he regularly turns to for ideas.
Kevin is a member of AIGA (the American Institute of Graphic Arts) and SAG • AFTRA (the Screen Actors Guild / American Federation of Television and Radio Artists). He recently published his second book and first novel Kindred Spirits, which was recently awarded the GRAND PRIZE by the Indie Diamond Book Awards.
experience:
• Kevin Brown Studio – Oakland / Santa Fe
• Whole Foods Market – San Francisco
• Peet's Coffee & Tea – Berkeley
• The GMW Partnership, London, UK
• Silver & Ziskind, New York, NY
• Kenwood D+D, New Orleans
honors / awards:
• GP Winner / Indie Diamond Book Awards
• Winner / Best Indie Book Awards
• Finalist / National Indie Book Awards
• Comm Arts Magazine / Award of Excellence
• Graphis Poster Annual / Silver Award (3)
• Zachary's Poster Competition / Winner (3)
• Mignón Fagét Medal / Outstanding Design
who we've worked with:
Bay Oaks Soccer
The Birthing Tree Cooperative
Jinja Bar & Bistro
Brannen & Brannen Law
Blackdom
D Maahs Construction
Berkeley Humane
Claret Cup
Molzen Corbin
Cyber Mesa
The City of Las Cruces
The City of Farmington
The City of Las Vegas
The City of Santa Fe
The City of Santa Rosa
The City of Angel Fire
Santa Fe Fiber Optics
Academy for the Love of Learning
Crewnewmexicoradio.com
Centry Ltd., Helsinki
Delicato Family Vineyards
Desert Elements Design, Inc.
Duke City Repertory Theatre
ESPN
EnSys / Yocum
Eventrics
Eurasia Advisors, London, UK
Global Host Project
Harrah's Hotel + Casino
Home on Deranged
IATSE Local 480
The Idea Group
InkSoft
Irving Arts Center
Jenkins Gavin D+D
Las Ventanas Homes
Mark Lautman, Author
Mifsud Associates Architects
Mr. + Mrs. Favors
Olive Juice Designs
Ortega Family Enterprises
Paul Sorvino, actor, director
Palo Santo Designs
PrestiDigital Media
Paradigm Plus
Relationship Based Parenting
Peet's Coffee + Tea
Rt. 66 Museum
Rt. 66 Festival
Santa Fe Coffee Company
Santa Fe Wine Festival
El Rancho de las Golondrinas
Siete Productions
Stacy Bishop Racing
Svenskadagbladet.com, Stockholm
The Tech Museum, San Jose
Thunderbird Bar & Grill
Turtleback Mountain Resort
UBS / Aster
University of Miami
United Way of Santa Fe County
Love Workshop / Ghost Ranch
US National Parks + Monuments
Whole Foods Market
The School of St Yared, Ethiopia
NM Council of Governments
Holotropic Breathwork, India
Zachary's Chicago Pizza
testimonials:
Wow! It is stunning! Better even than my best imagining. Hopefully decades from now generations will have seen, learned and remembered through your bold, wondrous art, the mythical and yet historical mysteries of the Southwest and its great Native Tribes. Indeed, sacred, primordial memories which having been must always be. It is so wonderful! Beyond words really. So perfect I can hardly believe it! My respect, admiration and deepest appreciation are with you all …
– A. Ortega / Mural at Thunderbird Bar + Grill